As most of you know, I'm kind of (totally) a geek when it comes to personal organization and productivity. And, I also am deep into the business and entrepreneurship world. So, imagine my excitement when I discovered the Entrepreneurial Operating System (EOS) – a toolset for smaller entrepreneurial organizations to be more effective and organized.
I first discovered EOS while I was a Project Manager last year at a growing startup called Calyx Containers. The CEO recommended for me to read the book Traction: Get a Grip on Your Business. He told me that he wishes he read it 5 years ago. And for me, when anyone I admire tells me "I wish I did this sooner," I am ON IT. So, I dove into the book which I was happily surprised was extremely technical and tactical. Many of the business books I've read are very fluffy… but Traction was an absolute manual for business success.
I've since helped to implement EOS at 3 organizations, including Calyx. I brought EOS to my team at eTower, and now I'm bringing it to another organization in a completely new industry. People actually make a living off of implementing this system at organizations. I've met several of these "Implementors" and honestly it's a line of work I can see myself really thriving at. After all, the more I think about it, I've never really cared about what the work was, but instead much more about how the work gets done.
If you haven't read Traction and are interested AT ALL in business, management, leadership, or entrepreneurship, I will tell you right now it is a must-read. But, I'll give you a little overview of some of the tools should you not take my word as gospel:
Vision Component
The vision component helps your organization become extremely clear and aligned on where the company is going, how fast, and what steps need to be taken when to get there. I have loved using their Vision/Traction Organizer as a template.
People Component
As someone who leans more toward data than to people when it comes to business, systematizing an understanding of the team I'm working with has been invaluable. The idea of having the right people in the right seats transformed the way I think organizations should run. I've used the EOS model for onboarding and off-boarding in my entrepreneurship community and helped executives make hiring/firing decisions based on it. It basically determines fit based on getting the company/role, wanting to do the role, and having the capacity to do it well, as well as exhibiting the core values.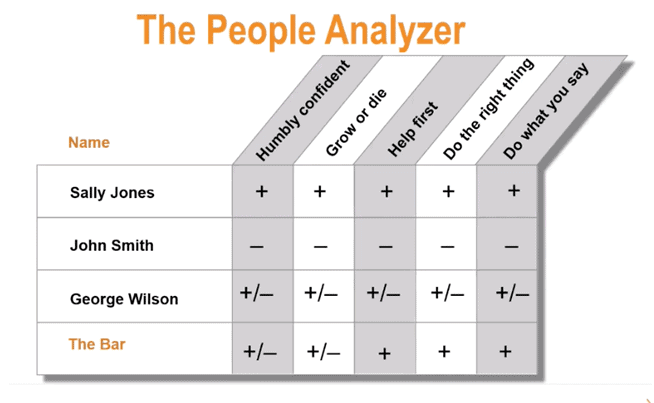 My favorite tool here though is the accountability chart, which is like an organizational chart but with listed roles and responsibilities. CLARITY! It does so much for organizations.
Data Component
Like I mentioned, I love data. Making data-driven decisions as an organization is critical, and having a pulse on important metrics is necessary for any organization to be successful.
I love creating a scorecard for my team, with each person having 1-3 numbers that they report on weekly that are indicators of success. It promotes ownership and allows for more data-driven decision making and critical thinking.
Process Component
I don't think we could even count the number of hours wasted at startups because of a lack of proper documentation and defined processes. Visualizing and analyzing processes are the only real way to effectively solve inefficiencies. I love using LucidChart for this, which is a very simple and easy-to-use flowcharting software.

Traction Component
This is probably my favorite part. You know how much I love goal setting and making agendas. This is what the Traction Component is all about.
You establish Rocks – AKA 90-day SMART goals. Each person should have 3-5 and they should be the main priorities of the company for the quarter.
Then, you check in on those rocks, along with your scorecard (data component), feedback from employees and customers, and solve problems in a weekly 90-minute meeting. And this meeting defies what most of us have seen meetings as lately: too many of them, a waste of time (could've been an email…), and stressful (don't know what to expect). It's called a Level 10 meeting because at the end everyone should rate the meeting an 8 or higher (ideally 10) for meeting effectiveness and productivity.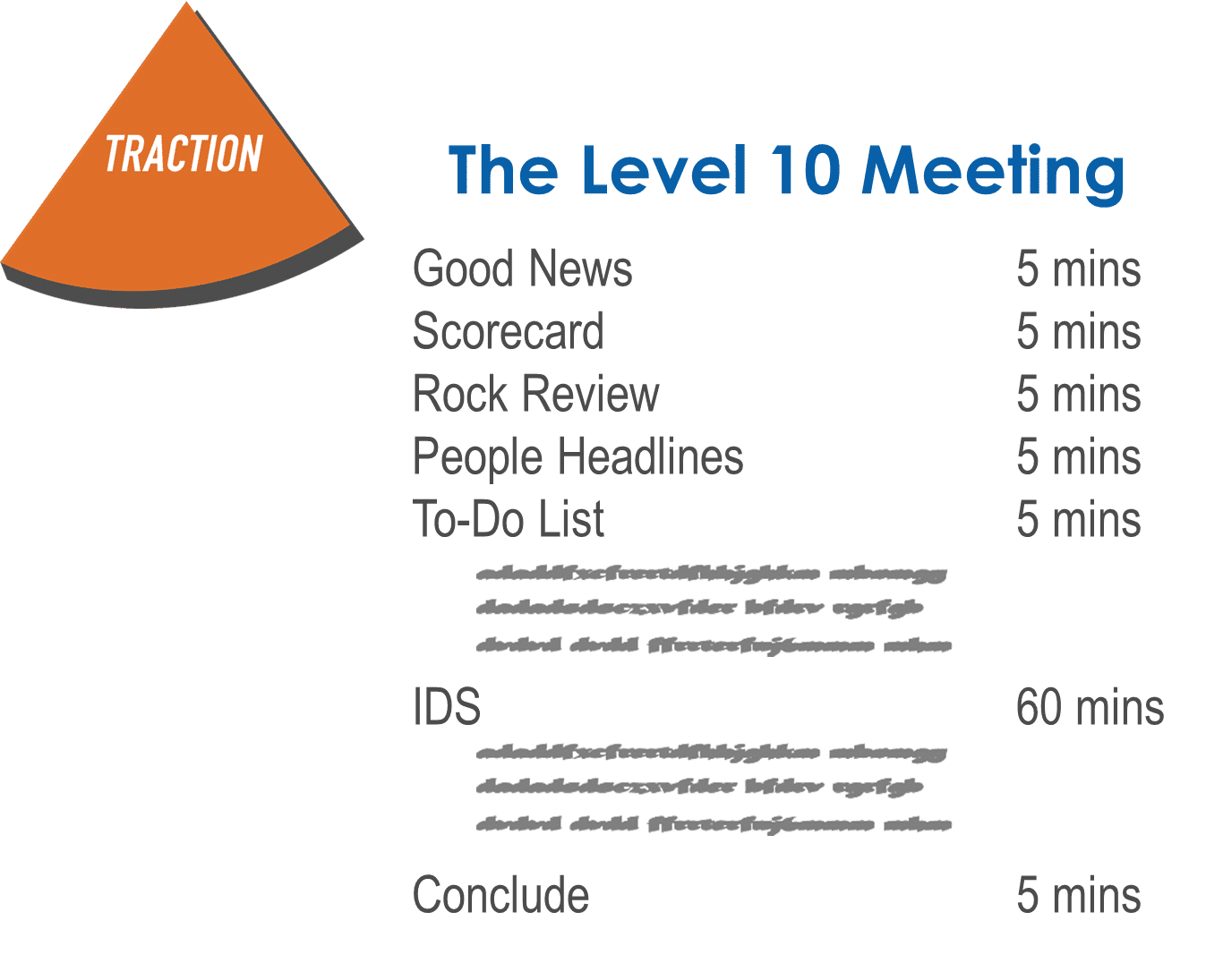 Issues Component
What actually makes a meeting productive? Solving issues! Identifying what the problems are, what's off track, what isn't getting done, and working together as a team to identify what we can do to fix it. The way EOS frames issues is amazing. They use a process called IDS: Identify (the problem at hand, the actual issue we are trying to solve), Discuss (the issue to figure out the potential cause and explore ways to fix it), and Solve (the issue once and for all by creating a fix that will be long-lasting).
---
So, there you have it, my spark notes on the EOS system. I will never think about businesses, meetings, operations, organizational behavior, or planning the same ever again. I'm officially obsessed. Again, buy Traction here (best $10 you'll spend this year) or even check out their short-version of it in this book, What the Heck is EOS?, which is intended for employees going through an EOS implementation where they work.
And psst if you're running an org of any kind and want to implement, reach out to me – I'd love to get more experience at implementing.
❤ Alicia